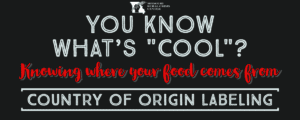 The USDA wants to know your opinion about Country of Origin Labeling (COOL) 
The deadline to submit comments is Monday, April 5th, 2022 
As currently stands, "product of the USA" applies to any meat processed in the United States. 
This fools consumers into thinking they're purchasing beef from local producers, while increasing corporate profits, driving down prices paid to U.S. cattle producers. The fight to bring back Mandatory Country Of Origin Labeling would mean only products born, raised, and processed in the US could be labeled "product of the USA"
Click Here to submit your comment about COOL to USDA 
Talking Points:
Beef born, raised,

and

processed in the USA should be the only beef allowed to have the "Product of the USA" label.

Both independent cattle producers and consumers in the U.S. are being negatively impacted by the current "Product of the USA" label, driving down prices paid to U.S. farmers and driving up prices to U.S. consumers.

People notice when meat is labeled "Product of the USA."

Right now, multi-national meatpackers are making record profits due to consolidation, monopolization and market control. "Product of the USA" labeling should not necessarily increase prices on the grocery store shelves, and they should not be allowed to once again gouge consumers in response to transparent labeling. Don't believe the corporate narrative on this.

Under current labeling rules, imported beef from anywhere in the world can have a "Product of the USA label", as long as it is packaged here. This is consumer fraud. USDA should fix this right now. 

USDA and/or Congress needs to reinstate Mandatory Country of Origin Labeling for all meat. 

We should have the right to know where the meat we buy in grocery stores is born, raised and processed.

Monopolistic corporate meatpackers are reaping historic, billion dollar profits and need to be held accountable to U.S. farmers and consumers. COOL is one of the steps to do that. 

COOL, along with other important market reforms, could decrease multi-national corporate control of cattle markets, create more competition and give consumers transparency. 
Language to Avoid/Things to Remember: 
Avoid using "foreign" companies. This xenophic language ignores the fact that corporate monopolies are the problem, and not all US companies are good. Focusing on "multinational" companies or "industrial agriculture" better articulates what the issue really is. 

While "product of US" is a good first step in bringing about local and regional food systems, it is one step to transform the food system. There are US companies that have CAFO operations that are harming the environment as well. Mandatory COOL will just help increase transparency and consumers' ability to know where their food comes from. It by no means captures the only information consumers need to purchase a sustainably grown product.