EARTH DAY 2022
The Black Hills Chapter of Dakota Rural Action together with the Rapid City Sustainability Committee are co-sponsoring the Earth Day 2022 event this year.  
It will consist of a variety of events during the week, including trail challenges, clean-up activities, etc., but the culmination of our Earth Day 2022 week will be on Friday evening April 22nd.  It will be held at the Dahl Art Center starting at 5:30 pm with a food truck and tabling by local environmental organizations. The presentation will begin at 6:30 pm with a presentation by local high school students and then a free showing of the movie "2040."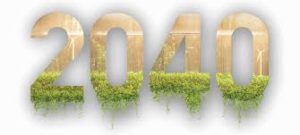 Organizations can participate by reserving a table allowing you to make contact with the attendees of this program (estimated to be up to 200 people), both prior to when it starts at 6:30 pm and then afterward when a post-movie discussion will occur for people who want to stay until about 8:30 pm.  The suggested donation for a table is $25 and you may send a check made payable to: Dakota Rural Action-Black Hills Chapter
Mail to: Dakota Rural Action-Black Hills Chapter, c/o Kim Kelley-treasurer, 12637 Merritt-Estes Rd. Deadwood, South Dakota 57732 (Be sure to note "Earth Day" in the memo section.)
But if you cannot or do not want to table, we will gladly accept any donations to help defray the cost of hosting these events with acknowledgement given to all our generous sponsors.
---
EchoWorks Community Collection *POSTPONED*
Due to expected bad weather, the decision has been made to postpone the EchoWorks Community Collection event at the Farmer's Market.  Instead, there will be a free public collection day next week, TUESDAY, APRIL 26, @ EchoWorks.