LOCAL FOOD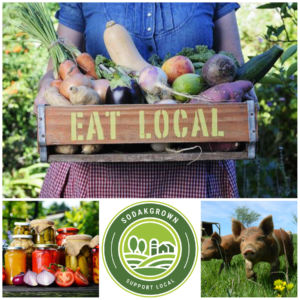 Why Local?
Local foods are good for our health, our climate, and our community.
Local foods:
– build community and local economies.
– support local family Farms.
– preserve genetic diversity.
– protect our regional food security.
– taste better and is fresher.
– support a clean environment and benefits wildlife.
SoDakGrown-
Our goal is to support working family farms and ranches throughout the state and the restaurants and markets that sell their products, bolstering our local economies and improving South Dakota's access to local food. We hope to raise awareness of the vast potential in our local and regional food systems and will keep more of our food dollars within our state. Moreover, we hope to provide the opportunity for people with different perspectives to connect, build bridges, and discover common ground through shared love for the Sioux Empire and a desire to support our local family farms and ranches. We aim to reach and connect urban and rural communities, local business owners, and new and long-standing producers across the state, creating strong and long-term relationships.
News from Local Food
CFAP Program Released, Questions Abound The US Department of Agriculture has released plans to open the $16 Billion Coronavirus Food Assistance Program (CFAP) meant…

Homegrown Resiliency Through Community Empowerment  In the middle of a pandemic, grassroots community members are coming together to build resiliency.  Homegrown Sioux Empire, the…

For Immediate Release: May 4, 2020 Media Contact: Dakota Rural Action, Eowyn Corral, eowync@dakotarural.org  South Dakota Local Foods Network South Dakota Local Foods Network Announces…