Support New South Dakota Farmers and Ranchers
It's a fact: South Dakota thrives on farmers and ranchers.
South Dakota food producers feed our families, support our businesses, enliven our communities, and take part in a noble heritage. Another two facts: many ranchers and farmers are retiring, and it will take a new wave of farmers and ranchers to carry this legacy forward.
Family agriculture is of significant value to South Dakota, and we need significant funds if we are going to keep family farming and ranching in South Dakota.
Will you consider giving a donation to support family scholarships for the next Farm Beginnings class?
Farm Beginnings® is a farmer and rancher led training program offered by Dakota Rural Action that helps give participants the tools to launch a profitable, sustainable farming business.
Please help us reach our goal of continuing to offer this program to new and beginning farmers:
Because of your connection to South Dakota farmers and ranchers, we are asking that you donate to help support this worthy project's scholarship fund.  We are looking to match $7,500 to raise $15,000 in scholarships.
In the last 9 years, over 70 families have completed the Farm Beginnings® program. Donations have not only helped cover overall costs of the course, but have also provided over $50,000 in scholarships to 69 families.  This is a great opportunity where money from South Dakotans helps support South Dakotans. Because of your strong ties to South Dakota farmers, this could be the perfect way for you to help support your surrounding agricultural communities, and we will match your contributions to see them go even further. It's our way of thanking you for your commitment to South Dakota's future farmers and ranchers.
This year the Rosebud Economic Development Corporation (REDCO), a Native led community organization on the Rosebud Reservation, dedicated resources for community members to attend DRA's Farm Beginnings course and will participate in a cultural audit of DRA's program. Together, our two organizations will update the curriculum to be more culturally relevant to the Rosebud farming and food growing community. 
The Farm Beginnings® program has impacted the lives of the families who participated in the course. The graduates go on to be involved in all areas of agricultural production. Aaron Johnson of Madison, SD has become a 20% partner in Johnson Farms' organic crop operation, and Ian & Amy Caselli  have grown and expanded their market garden operation in Sioux Falls. The success of the program does not have to stop here. You can help today by donating to the next Farm Beginnings® cycle and supporting South Dakota's next generation of farmers and ranchers.
Farm Beginnings® tuition is $1,500 per family, and scholarships help make the class more accessible to those who want to participate by alleviating the burden of course tuition. We offer scholarships that cover up to ½ the course cost, or $750 per family. Our goal is to match a $7,500 donation and raise a total of $15,000 to help 20 new farmers attend the course. Because of a gracious unexpected donation of $2,500, Dakota Rural Action members only have an additional $5,000 to raise to meet our $15,000 goal! You can join our other donors today by contributing to the scholarship fund for this very worthy cause. Will you help us raise the final $5,000?
Please fill out the enclosed return slip, write your check and using the return envelope, send your matching donation back to DRA.  If you'd like to give online or to check out more about Farm Beginnings®follow this link:

The Value of Farm Beginnings®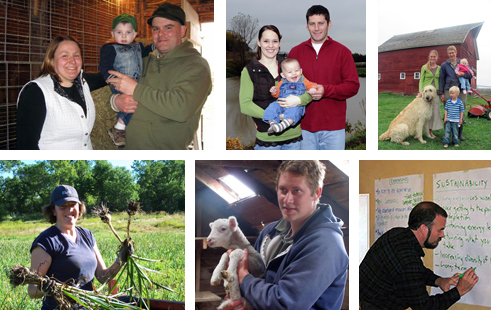 Nowadays, starting out in agriculture can be particularly difficult, even impossible, without the right training. That's why Dakota Rural Action launched the Farm Beginnings® training program. This fall will be the program's fifth year and the first year the class is being held West River. Farm Beginnings students learn directly from skilled farmers and ranchers essential farm business skills such as whole farm planning, financial planning, marketing, and connecting with mentors and resources. Besides classroom training, families get how-to experience from tours and workshops.
Our Track Record
Over the last four years, 34 families have completed the Farm Beginnings® program, with over 80% of those graduates engaged in farming activities since completing the class. Grassroots fundraising during that time not only helped cover costs of the overall course, but also provided over $22,000 in scholarships to 26 families. This money has come directly as gifts from folks like yourself.
Your Gift
Your gift meets an immediate need and supports a way of life. Farm Beginnings course tuition is $1500 per family and we hope to offer need-based scholarships for up to half the course cost, or $750 per family. Our goal is raise enough funds for our scholarships. Donors so far have given a little over $1500, and this will provide 2 of those 7 scholarships. Please help 5 more farming and ranching families get started this year. Donate.
Scholarships provide a great giving opportunity where money from South Dakotans helps other South Dakotans. It speaks of faith in the values of family farms and ranches and in the people who will devote their labor to these livelihoods. This is an opportunity for all of us who want to see family agriculture remain viable in South Dakota to invest in the next generation of farmers and ranchers.
Thank you for your time and making this grassroots organization viable. And, thank you for considering donating as much as you can to scholarships for new farmers and ranchers. All gifts to Dakota Rural Action are tax-deductible. Donate to Launch Next Wave of South Dakota Farmers + Ranchers.