Small Farms / Local Foods
DRA conducted an assessment to identify attitudes, opportunities, obstacles, and key concerns around improving markets for locally-grown foods in Brookings, Deuel, Moody, and Kingsbury County in 2007 and 2008. DRA worked with South Dakota State University graduate students in Sociology, and hired an intern during the summer of 2008 to carry out the assessment, which included surveys and over forty interviews with a producers, consumers, and institutional buyers. DRA co-sponsored a presentation in Clear Lake, SD featuring Ken Meter, President of the Crossroads Center in Minneapolis, who is one of the region's leading experts on the role food production plays in economic development. DRA will release a public report in the near future, and will use the results to plan strategies, including local and state policy initiatives, to increase consumption of locally grown foods in rural South Dakota.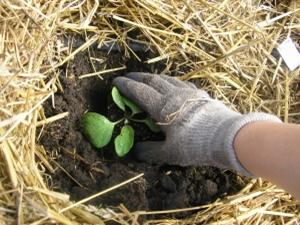 The second edition of Dakota Rural Action's South Dakota Local Foods Directory came out Earth Day 2009. The drive to create the food directory came from DRA's Small Farms Committee, a group of members committed to family farming and local food issues. The directory was created in an effort to increase support for local producers, to increase consumption of South Dakota products by South Dakotans, and to increase the number of small-scale producers in the state. It is part of the committee's long-term vision to help connect and vitalize the people of South Dakota with good abundant food, clean and healthy communities, and economic prosperity.
DRA members identified a need to train and support family-scale beginning farmers, and responded by laying the groundwork for the launch of a South Dakota Farm Beginnings program, scheduled to begin in October of 2009. DRA will work with a curriculum developed by the Land Stewardship Project, which has had over a decade of proven success training new farmers in Minnesota and other states. In 2008, DRA began recruiting participants, leaders, and mentors, sent a survey to all producers listed in the Local Foods Directory, and formed a steering committee for a South Dakota based Farm Beginnings Program. The steering committee engaged in a one-day training and planning session with the Land Stewardship Project in September 2008.
For more information, contact Heidi Kolbeck-Urlacher at 605.697.5204. For the West River sub-committee, contact Stephanie Trask at 605.697.5204 or 605.718.4957.