Home-Processed Foods Law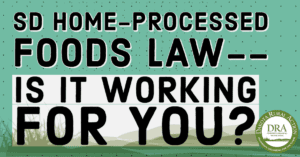 In 2009, Dakota Rural Action organized a group of producers, consumers, farmers market managers, home-bakers, and others to craft the state's first home-processed foods law. Working with the State Dept. of Health, Dept. of Agriculture, and SDSU Extension, we passed that law in early in 2010.

The "cottage foods" law made it legal–within certain parameters–to sell homemade pickles, jellies, breads, rolls, and some other homemade foods at farmers markets, farm stands, and similar venues across the state.

Since then, the law has had small changes, and on more than one occasion (including during this year's legislative session), attempts have been made to do away with home-processed foods regulations altogether. Clearly, there is interest in an update.

This year, Dakota Rural Action is once again reaching out to producers, home bakers and canners, and others interested in the ability to buy and sell home-processed foods to come together to craft an update of the Home-Processed Foods Law that works for everyone.

If you are a maker of home-processed foods, or a regular purchaser of those foods, we want to hear from you! How is the current law working for you, and how could it work better? Are you interested in working together to update the current law?
---
Please let us know by filling out the form HERE.
---
What is the Home Processed Foods Law?
The Home Processed Foods Law in South Dakota creates a path for producers of certain foods to legally sell those products at farmers markets, roadside stands, and similar venues throughout the state. 
The law (and subsequent amendments) clarifies that:
Persons selling whole, intact fresh fruits and vegetables are not required to be licensed under this law (they may be required to get sales tax license, but that is not covered under this law).

Persons selling non-temperature-controlled (aka shelf stable) baked goods made in their home kitchen can do so following certain labelling requirements 

Persons selling canned goods made in their home kitchen with a pH of 4.6 or less or a water activity of .85 or less (acid and acidified foods) may do so provided those products are tested and approved by a third-party processing authority and adhere to certain labeling requirements
Further iterations and clarification of this law and others pertaining to sales of home-processed foods allow for:
Sale of non-temperature controlled baked goods out of one's residence

Sampling of products at farmers markets (see guidelines

here

)
Some products NOT covered by the home-processed foods law include sales of dehydrated foods (such as herbs and teas) and sales of eggs at farmers markets, which are required to be graded, candled, and sold in new containers. Juices are also not covered under the law, nor are meat or dairy products.
---
If you are a producer with questions about how the current law affects your business, contact Curtis Braun, SDSU Extension Food Safety Field Specialist @ Curtis.Braun@sdstate.edu  -OR-  605-782-3290.
If you have any questions about the law please feel free to call the Dakota Rural Action office at 605-697-5204.