Legislative Donations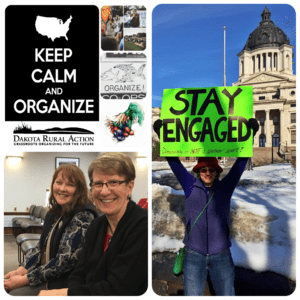 For three decades Dakota Rural Action has help South Dakotans have an active and independent voice in the legislative process. Help us keep it going for another three decades and beyond by donating to our Legislative Fund!
In the 2017 session in Pierre, Dakota Rural Action:
Stopped a major threat to citizens' right to appeal Conditional Use Permit (including CAFO siting) decisions by their local Boards of Adjustment;
Protected direct democracy by putting pressure on the legislature over the repeal of IM 22. Despite that repeal, the pressure has convinced legislators to amend or withdraw other bills threatening direct democracy;
Fought back (and we're continuing to fight back) on several bills that undermine citizens' right to initiative, referendum, and constitutional amendment;
Supported final passage of Certified Professional Midwife Licensing;
Provided weekly detailed Legislative Updates as well as Action Alerts for fast-moving and potentially dangerous legislation.
And it isn't over yet! Help us continue to support the active and independent voice South Dakotans demand in our state capitol.
Donate to the DRA Legislative Fund today!