7th Annual SD Local Foods Conference
Join us for the 7th Annual SD Local Foods Conference November 2nd – 4th in Spearfish at the Holiday Inn Convention Center!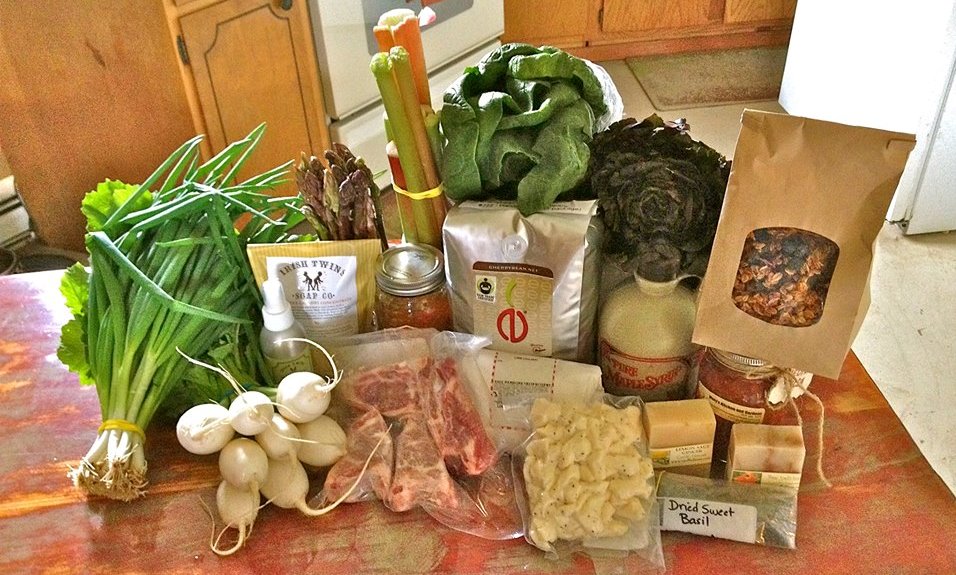 The Conference, which is a collaboration between Dakota Rural Action, SDSU Extension, South Dakota Specialty Producers Association, SD Dept. of Agriculture, USDA Rural Development, Small Business Development Center, and others, focuses on local food systems in SD, local food systems in Native American communities, food production methods, marketing and management techniques, hands on workshops and more. The conference also works to source and serve only locally grown and produced foods during the meals and snacks served, and has been a highlight of the event every year.
Cost & Registration
View cost options and register online by clicking HERE.
Keynote Speaker: Deborah Madison
Chef, author, and teacher, Deborah Madison is a respected expert in local foods, slow foods, vegetarian cooking, and fresh garden produce. Madison's works include Local Flavors,Vegetable Literacy, and most recently In My Kitchen: A Collection of New and Favorite Vegetarian Recipes. Learn more about Deborah Madison at http://deborahmadison.com/.

Agenda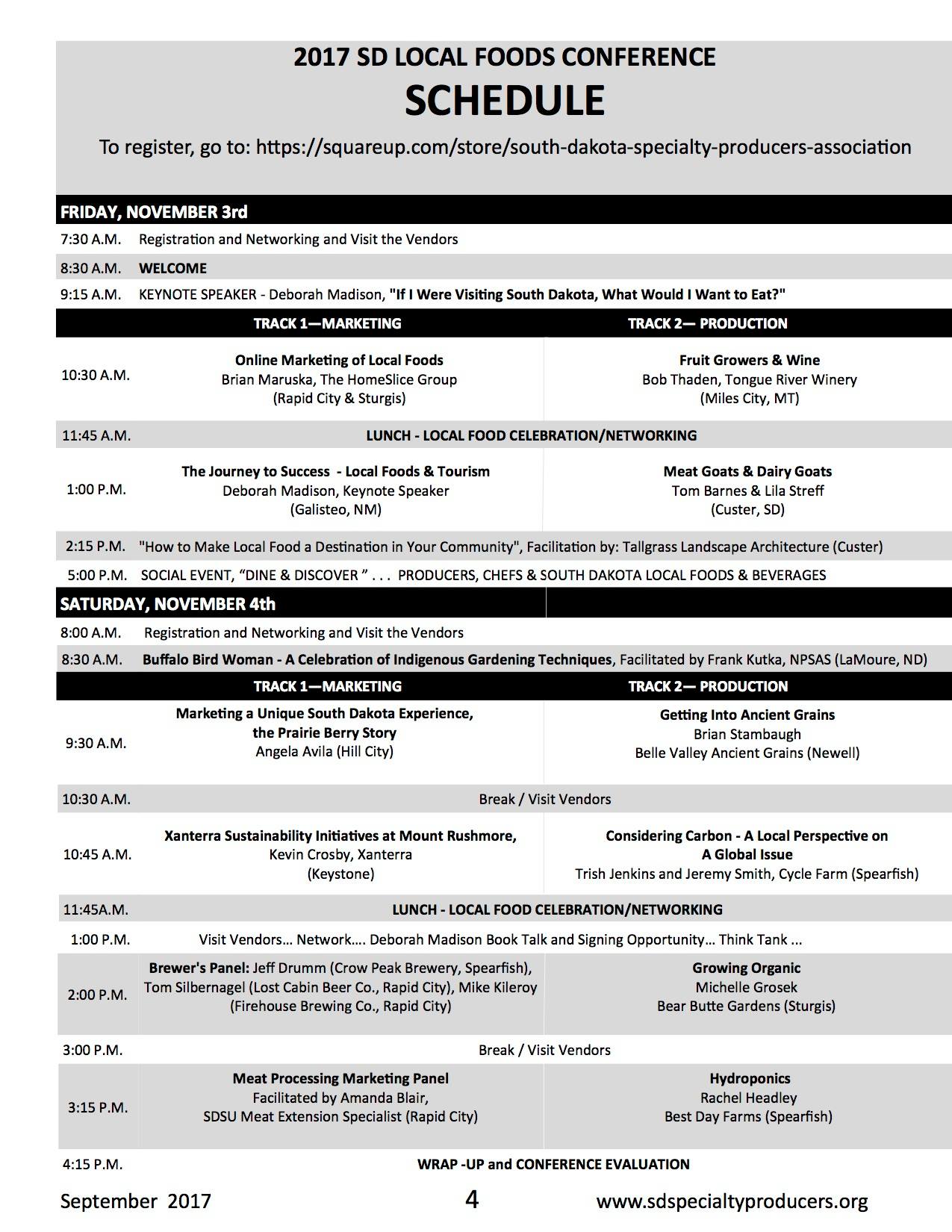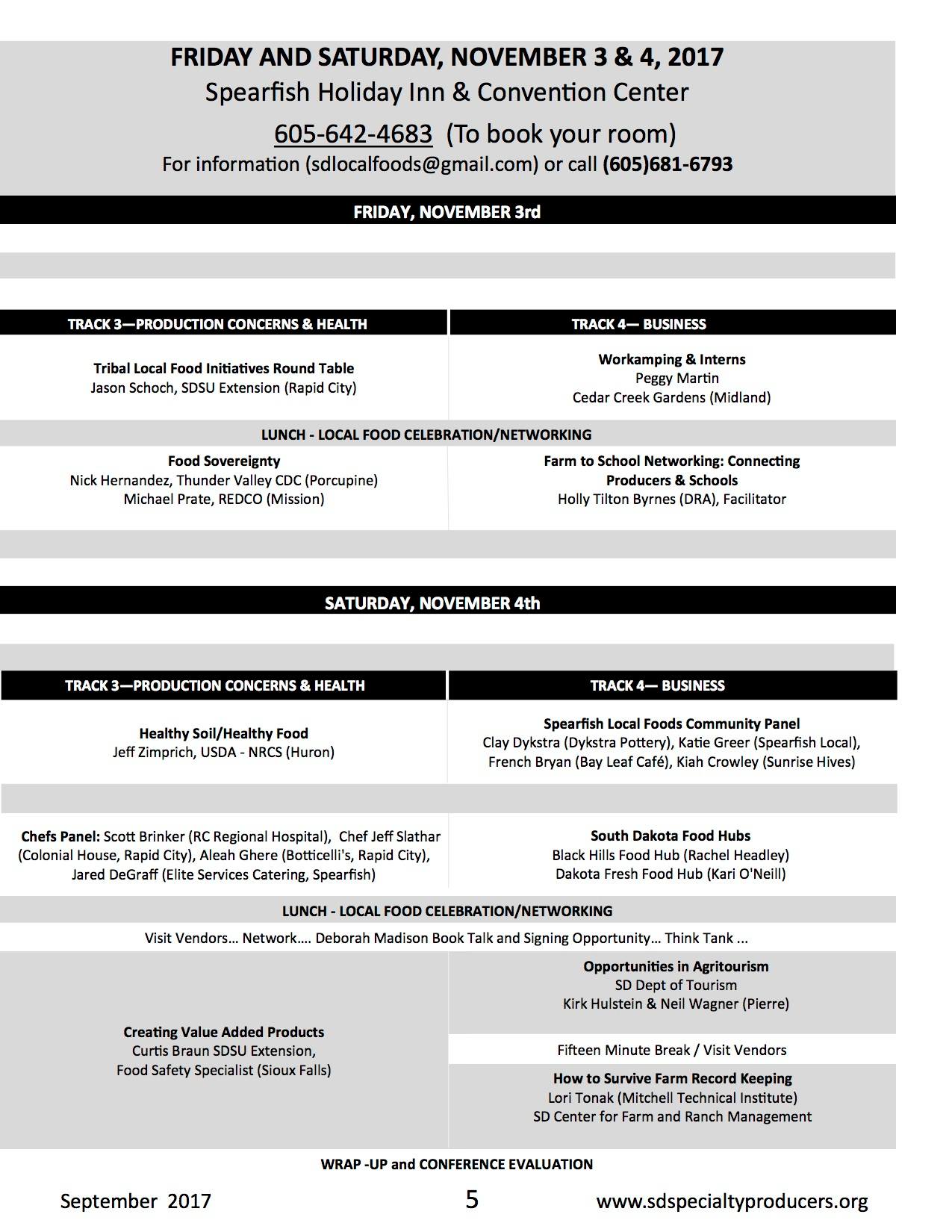 ---
Thursday, November 2
In-Depth Pre-Conference Sessions include:
Farm to School
SNAP at Farmers Markets
Tour of Cycle Farms
Local Foods & Healthcare
12 Month Greenhouse
Fruit Growing in the Upper Great Plains
Resources & Technical Assistance
Organic Weed Control for Small Farmers with Atina Diffley
*November 2nd will feature a Dakota Rural Action Mixer and a film viewing of Seeds: An Untold Story.
Friday, November 3-4
Break out Sessions include:
Fruit Growers & Wine
Food Hubs
Workmaping & Interns
Growing Organic
Meat & Dairy Goats
Getting into Ancient Grains
Healthy Soil/Healthy Food
Hydroponics
The Joy of a Farm Stand
Food Safety Regulations
Chefs' Panel
Brewers' Panel
Agri-Tourism
Farm to School
*November 3rd will feature a spectacular social event including a chef and producer food pairing and networking opportunities.
Venue
Holiday Inn Convention Center
305 N. 27th St., Spearfish, SD
Phone: 605-642-4683
Website: Click Here
Blocks of rooms are available at the hotel for conference attendees.
For more information:
Email: sdlocalfoods@gmail.com or hollyt@dakotarural.org
Connect on Facebook: https://www.facebook.com/SouthDakotaLocalFoods/