For Immediate Release
January 20, 2021
Contact: 
Rebecca Terk, DRA Organizer, rebeccat@dakotarural.org, (605) 697-5204 x260
Bruce Ellison, DRA Member & Pipeline Attorney, belli4law@aol.com, (605) 348-1117
Dakota Rural Action (DRA) lauds the Biden Administration's day one decision to revoke the State Department permit for the Keystone XL Pipeline. For over a decade, our members, staff, and so many thousands of others across the country have worked to stop this dirty and dangerous tar sands pipeline from threatening our land, water, and communities.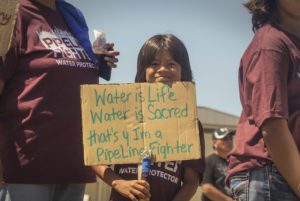 In that time, we have come to a shared understanding that Water Is Life, and that protecting our water and rejecting corporate greed is a work of immense love and respect for all living beings. Paula Antoine, DRA Board Member and Rosebud Sioux Tribal Citizen said "The climate crisis reaches our most vulnerable communities first. As a mother and grandmother of our Lakota, Dakota, Nakota Nations, I'm grateful that President Biden has honored his promise of NO KXL, which will support a greener economy and impact more than the United States. A promise that coming generations will hear across Mother Earth. Pilamiya President Biden."
Maria Birch, DRA Vice Chair, said "Let's first and foremost acknowledge the relationships we've built and the gratitude we have for all who persevered in this years-long fight to kill the KXL pipeline. Time and again tribal nations and grassroot organizations have risen to the task of educating people about the damage this extractive industry creates on Mother Earth.  I am grateful for all those who have united in stopping this pipeline and creating a better place for all of us. I am grateful for the leadership of Indigenous communities. And I am grateful to the incoming president for his word to stop this pipeline."
This has not been an easy or quick victory, and many who began this work are no longer with us. In celebrating this historic win, our thoughts are also with those who've passed on: Bob Gough, Pat Spears, Debra White Plume, Tom Poor Bear, Charles Marshall, and so many more whose efforts helped make this victory possible. 
###