Crossover Day Has Come & Gone–Less Than Two Weeks Remain
Crossover Day–the day that all bills must make it through Committees and Houses of origin–was on Monday of this week, and now legislation that has survived its initial test will "cross over" to its second round of hearing and debate. At the same time, a few bills have been moving ahead with leaps and bounds, and are already on the Governor's desk, awaiting a signature or a veto.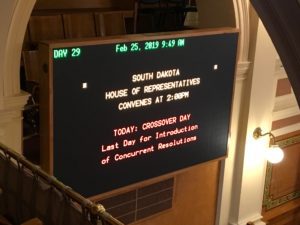 A few notable bills that were tabled this week or sent to the "41st Day" (killed):
HB 1120 appropriate funds for forest health and resilience.
Tabled in Joint Appropriations Committee, this bill would have kept the Governor from "sweeping" forest management funds into the general fund–instead keeping them in a separate fund to manage fire suppression and insect infestations.
HB 1160 revise certain provisions regarding emergency management.
This bill would have opened the taps of emergency state aid for counties in crisis, but also added "protests" to the language of emergencies under which the governor could suspend rules of state agencies. It was tabled by request of the prime sponsor.
HB 1178 revise provisions regarding the beginning period for absentee voting.
This bill started out by shortening the early voting period from 45 days to 14. A few amendments later, it set up two deadlines–one for overseas military and one for everyone else. It was defeated after opposition testimony from county auditors all over the state.
HB 1223 modify the distribution of taxes on concentrated animal feeding operations.
This bill, like an earlier companion (HB 1234) would have given a portion of contractor's excise taxes on newly constructed CAFOs to the county (or school district) in which the CAFO was built. Both were tabled in committee.
Industrial Hemp Moves Forward–Last Vote in Full Senate Next Week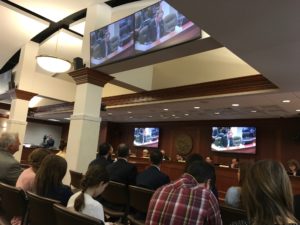 After over two hours of testimony, committee questions, and discussion, House Bill 1191 passed the Senate Ag Committee on a 7-2 vote yesterday just after noon. The legislation follows the 2018 Farm Bill in allowing states to set up their own programs to grow, produce, and process industrial hemp and derivative products. Dakota Rural Action, SD Farmers Union, and SD Stockgrowers all testified in favor of the bill, along with ag processors and individuals.
The Industrial Hemp bill is prime-sponsored in the House by Rep. Oren Lesmeister (D-Parade); he is joined by 42 other House sponsors and 19 sponsors on the Senate side. Despite strong opposition from the Governor's Office, Department of Public Safety, and Department of Health, which primarily focused on questions around whether legalization of hemp would make marijuana laws harder to enforce, the majority of Committee members found the arguments to be dubious with ongoing pilot programs in other states, and that Farm Bill legalization means industrial hemp and derivative products will be transported through our state regardless of whether South Dakota has its own program.
Keeping the momentum going on the Senate floor is now key to the bill's passage–opposition from Public Safety, Dept. of Ag, and the Governor's office will continue to be strong, but a decisive vote will show clearly the intent of the legislature to override any gubernatorial veto.
Contact Senators with positive messages of support!
The bill will be debated on the Senate floor next week.
http://sdlegislature.gov/Legislators/ContactLegislator.aspx?Session=2019
SB15 Still In Play–Undermines Public Input on PUC Permits
The House Commerce & Energy Committee will hear testimony on Senate Bill 15 on Monday, March 4th. We wrote about this last-minute hoghoused bill in the Legislative Update a week ago, and despite the "tsunami of emails" received by Senators, the bill survived Crossover Day on a 21-14 Senate floor vote. Getting it through meant bringing a floor amendment that purported to "address concerns" of those emailing and calling; however, the amendment simply removed one section of the bill that was in no way related to those concerns.
To recap: this Public Utilities Commission (PUC) bill started out as a simple change extending the wind facility permitting timeline from 6 months to a year. Dakota Rural Action and South Dakotans for Responsible Renewable Energy (SDRRE) supported the bill in committee, and it was opposed by wind development companies (not utilities–developers) and the Governor's office. Senate Commerce & Energy Committee deferred action, and told the PUC to sit down with proponents and opponents to craft a compromise.
Despite both DRA and SDRRE communication with the PUC, both citizen-based organizations were locked out of the process–according to PUC Commissioner Gary Hansen "because the other side would not permit it." The bill came back to Committee on the final day for consideration, and it was a complete rewrite (hoghouse) of the original bill–and of the entire section of code dealing with energy generation & transmission facility permitting.
DRA was able to get a draft copy of the amendment the night before, and spread word among allies to contact committee members, but we were unable to attend the hearing. The hoghoused bill passed its committee vote 5-2, and the following day DRA "officially" came out against the bill, linking to the newly-adopted language in last week's Legislative Update.
We are renewing the call for members to urge defeat or substantive amendment to this bill in House Commerce & Energy Committee on Monday morning. Please email or call Committee members over the weekend, ahead of Monday's hearing. Some specific talking points are listed below the contact info.
House Commerce & Energy Committee Members
Arch Beal – arch.beal@sdlegislature.gov (605) 336-3034
Spencer Gosch – spencer.gosch@sdlegislature.gov (605) 230-0313
Chris Johnson – chris.johnson@sdlegislature.gov (605) 342-1587
John Lake – john.lake@sdlegislature.gov (605) 765-9547
Steven McCleerey – steven.mccleerey@sdlegislature.gov (605) 698-7478
Rhonda Milstead – rhonda.milstead@sdlegislature.gov (605) 773-3851
Paul Miskimins – paul.miskimins@sdlegislature.gov (605) 996-7222
Carl Perry – carl.perry@sdlegislature.gov (605) 262-0113
Tim Rounds (Chair) – tim.rounds@sdlegislature.gov (605) 224-6588
Kelly Sullivan – kelly.sullivan@sdlegislature.gov (605) 773-3851
Kaleb Weis – kaleb.weis@sdlegislature.gov (605) 773-3851
Mark Willadsen – mark.willadsen@sdlegislature.gov (605) 361-6104
Larry Zikmund – larry.zikmund@sdlegislature.gov (605) 773-3851
Here are some specifics on what we OPPOSE in SB 15:
Sections 4, 5, & 6–Changes in language from "public hearing" to "public input meeting" on proposed facilities. Public hearings are recognized as creating an official record that may be used in a contested case hearing. Public input meetings are generally considered informational.
Section 7–Guts the section on who may be a party to proceedings down to individuals residing in the area of the proposed facility or "directly interested" persons. Removes the ability for non-profits (including groups like DRA) to be a party, thereby leaving individual citizens with limited resources to "go it alone" bringing their issues before industry and government.
Section 8–Adds language undermining PUC authority to provide oversight when county-level resources may be insufficient to determining risks from a proposed facility. Local governments already have control through the Conditional Use Permit (CUP) process, but often rural counties lack the resources to hire engineers and other experts to adequately assess the risks. The PUC needs to retain their authority to bring state resources to bear in adequately assessing risks to social and economic conditions of inhabitants.
Section 12–Delineates who is entitled to a contested case hearing–and refers back to the gutted Section 7, above.
What we can SUPPORT in SB 15:
Sections 1-3–These sections add the definition of "solar energy facility" into statute, which was attempted by an earlier bill (SB 14) vetoed by Governor Noem.
Section 9–This section encompasses the compromise from the original version of this bill–extending the timeline for wind facility permitting to nine months–and bringing solar energy facilities into statute with a nine month permitting timeline as well.
Sections 10 & 11–Are about allowing applicants to request an extension on commission deadlines for decision on permits, and acceptance and online publication of public comments.
House Commerce & Energy is the last, best place to amend the bill–if it survives committee in its present state, it will be very difficult to bring amendments on the House floor. Another concern is that House amendments would not be concurred with in the Senate, leading to a conference committee and possible reversion back to the bad hoghouse. Please make contact on this bill today!
Thank You For Taking Action!