From Intro to Passage in Less Than 72 House:
Governor's Anti-Protest Bills Pass Both Houses Thursday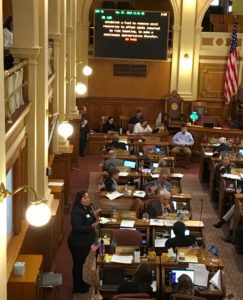 Rumors swirled about pipeline-related legislation for weeks, but it was not until Monday morning of last full week of session (and far past the deadline for new bill introductions) that DRA's lobbyist received messages from inside the Joint Appropriations Committee about a vote to suspend rules and allow new legislation to be considered.
SB 189 & SB 190 were announced that afternoon in a press conference with Governor Noem, and the bills' language was withheld from the press and public until that hour. However, we were able to secure draft copies of the bills several hours in advance and forward them to DRA members, media, and allies for analysis.
From there, it was a rush job all the way through. Less than forty-eight hours after the bills' language went public, they were scheduled for hearing. Despite the short notice, the hearing room was packed–with proponents and opponents each being allotted an hour of time for testimony. Opponents included Rosebud Sioux Tribe, DRA, ACLU, Cheyenne River Sioux Tribe, Lyman County State's Attorney, Sierra Club, Native legislators Senator Troy Heinert (District 26) and Representative Peri Pourier (District 27), and several individuals.
The late introduction of the bills and inclusion of emergency clauses was rationalized based on an appeal of the federal court decision to enjoin the Keystone XL pipeline's presidential permit. Proponents of the bills claimed that the decision could be overturned and construction begun this month. DRA brought to that committee a five-and-a-half page list of other permits, easements, and agreements required but not yet secured by TransCanada, clearly showing that this pipeline is nowhere near being built, and that there simply is no emergency that would necessitate leaving key stakeholders out of the discussions.
After passage out of Joint Appropriations Committee, their debate on the Senate Floor was scheduled in less than twenty-four hours, and from there it was less than an hour until the bills were taken up on the House floor. There is no question that the entire process was orchestrated by the Governor's office and Legislative leadership, in concert with a foreign corporation, to exclude citizens and organizations from having adequate information or meaningful impact in their own democracy.
Unfortunately, the courts are now the only recourse for this kind of reckless and exclusionary behavior, resulting in clearly unconstitutional legislation. South Dakota taxpayers will more than likely bear the financial burden of defending their elected officials' irresponsible actions.
Industrial Hemp Hits a Hiccup, Goes Back to House Monday
The process of legalizing the growth, production, and processing of industrial hemp in this state has had a convoluted path this session. What seemed like a sure thing on the House side ended up stalled in the Senate, while the Governor made several public statements urging tabling of House Bill 1191.
Senate Ag & Natural Resources Committee deferred the bill to allow sponsors time to haggle with the Governor, and attempt to agree on amendments. One such amendment proposed by the Governor went belly-up when no Ag Committee member was willing to carry it in committee. Its passage out of that committee on a 7-2 vote seemed to set the stage for a good showing on the Senate floor, but a last-minute change to the bill (adding an appropriation) gave the Governor an advantage in that appropriations require a ⅔ majority vote.
The bill didn't get that ⅔ vote on the floor, but a last-minute motion to reconsider allowed a little time for supporters to regroup. On Wednesday, the bill was re-amended to remove the appropriation, and passed with a simple majority. Senators who remained opposed to the bill reportedly each received a box of candy and hand-written note from the Governor on their desks.
Because of the changes this bill has undergone on the Senate Floor, it will be re-visited in the House, likely on Monday. DRA members are encouraged to contact House members to express their continued support of the bill.
http://sdlegislature.gov/Legislators/ContactLegislator.aspx?Session=2019
Next Week is the Final Week!
There are three days remaining of the legislative session (next Monday through Wednesday), and the deadline for bills to pass both Houses was yesterday. However, there are some matters yet unresolved (especially regarding industrial hemp) and there's always the possibility of a suspension of rules for some other unexpected action.
We will be watching that action and sending out a final Weekly Legislative Update end the end of next week. DRA Members should expect to see our full Legislative Review in their mailboxes in April!
Thank You For Taking Action!