Action Needed on HB 1019
Contact Members of House Commerce & Energy Committee
House Bill 1019 stands to create an incredible chilling effect on democracy in our state.
The short piece of legislation requires the state to pursue costs of litigation–not just in cases found to be frivolous, but in all cases where the state prevails.
If passed, this bill could mean that, in cases where citizens and organizations pay the already substantial costs of taking an agency or department to court for violations of law or procedure, the penalty for losing is to pay the very entity they were rightfully and reasonably questioning.
Interestingly, this bill was assigned not to House State Affairs or Judiciary, but to the Commerce & Energy Committee.
Tell House Commerce & Energy Committee Members to Vote No on HB 1019.
This bill represents an unacceptable chilling of the democratic process in our state.
Arch Beal – arch.beal@sdlegislature.gov (605) 336-3034
Spencer Gosch – spencer.gosch@sdlegislature.gov (605) 230-0313
Chris Johnson – chris.johnson@sdlegislature.gov (605) 342-1587
John Lake – john.lake@sdlegislature.gov (605) 765-9547
Steven McCleerey – steven.mccleerey@sdlegislature.gov (605) 698-7478
Rhonda Milstead – rhonda.milstead@sdlegislature.gov (House Msg Line)
Paul Miskimins – paul.miskimins@sdlegislature.gov (605) 996-7222
Carl Perry – carl.perry@sdlegislature.gov (605) 262-0113
Tim Rounds (Chair) – tim.rounds@sdlegislature.gov (605) 224-6588
Kelly Sullivan – kelly.sullivan@sdlegislature.gov (House Msg Line)
Kaleb Weis – kaleb.weis@sdlegislature.gov (House Msg Line)
Mark Willadsen – mark.willadsen@sdlegislature.gov (605) 361-6104
Larry Zikmund – larry.zikmund@sdlegislature.gov (605) 773-3851 (House Msg Line)
PUC Bills Move Through The Process
This week saw Senate Bills 14 through 18–all bills originating from the Public Utilities Commission (PUC) arrive in Senate Commerce & Energy Committee.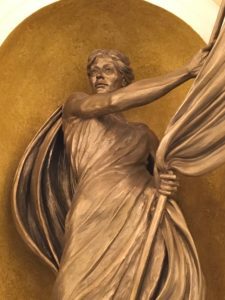 Senate Bill 14 provided a definition for solar energy facilities in statute–a definition that currently does not appear there. Despite testimony from lobbyists for renewable energy development corporations that there is no real need for the state to define or regulate 100+ megawatt solar facilities at all, the bill passed committee and also the floor of the House.
Senate Bill 15, which extends the timeline for granting of permits to 100+ megawatt wind projects to twelve months (up from six) hit a snag with strong opposition from the corporate wind energy lobbyists and even the Governor's office. The Public Utilities Commission argued that the twelve month timeline is necessary for their own full consideration of these massive projects, is in line with the permitting process for other facilities, and also provides citizens and counties with the time they need to fully vet the projects.
Opposition testimony on SB 15 centered around the need for less rather than more regulation (note that this bill doesn't actually increase regulations) and emphasized the business-friendly, non-restrictive climate for development projects in the state. At the end of discussion Thursday, House Commerce & Energy Committee members moved to defer action, and instructed PUC Commissioners to go back to the table with developers to hash out a "compromise." Commissioner Hanson indicated in hallway conversation that "compromise" was not something the industry was likely to do, based on attempts to come to agreement with them in the 2018 session.
Senate Bill 16 provides for the PUC to require financial security for the decommissioning of wind turbines by out of state and foreign corporate wind developers. Currently, turbines owned and operated by utilities regulated by the Commission have that financial security as part of their oversight. However, no such financial security for decommissioning now exists for large corporate developments where ownership may change hands multiple times–even, as testified to by commissioners, during the initial project permitting process.
Lobbyists for the wind developers testified that this kind of financial security was completely unnecessary, and that no wind project had yet gone bankrupt in the state. In his "Do Pass" motion, Senator Schoenbeck (District 5) referenced the Gilt Edge Mine Superfund site in Lawrence County, saying that the time for dealing with potential costs of clean up is before, not after, it becomes a problem. The bill has been deferred for action on the Senate floor until next week.
Informational Meeting on Productivity-Based Ag Land Assessment Jan. 23
Senate Bill 4, which came out of the Ag Land Assessment Task Force, has caused a fair bit of confusion. The bill repeals several pieces of current statute and replaces the language with a single line, "Agricultural land in each county shall be divided into the eight classes defined by the United States Department of Agriculture's soil conservation service as published in its soil survey for each county."
Several members have asked for additional clarification on the bill, and it appears that some is coming. An informational meeting on the "highest and best use" system of ag land taxation is scheduled for Wednesday, January 23rd at 3:30 pm in Room 414 of the Capitol. Interested DRA members are encouraged to attend.
Chemical Drift Survey
Ahead of possible introduction of two pieces of legislation dealing with liability in cases of agricultural chemical drift and overspray, Prairie Sun Organics is inviting responses to their chemical drift survey. You can take the survey at the following link:  http://bit.ly/agsurvey19
Citizen Lobby Days!
Sunday, February 10 6:00-8:30pm CT
Citizen Lobbying 101, Location: Red Rossa Prairie Room
Learn the basics of lobbying at the Capitol and how to talk about our issues with legislators
Monday, February 11 8:00am-12:00pm CT
Lobby Day at the Capitol Building
12:00-1:00pm – Lunch on your own
1:00-2:00pm – Party caucus meetings
2:00pm: House and Senate floor debate
Join us in the morning at the Capitol to lobby until noon; feel free to stay for lunch and to watch the floor debates or to head home!