Farm Beginnings Class Helps Kickstart New Operations
Training program moves back to Sioux Falls
After four successful years training new farmers on the western side of the state, Dakota Rural Action's Farm Beginnings® course is moving back east and will be offered in Sioux Falls at The Bakery this year. Farm Beginnings is a farmer and rancher-led training and support program that provides participants the opportunity to learn first-hand about low-cost, sustainable methods of farming and ranching and the tools to successfully launch a profitable enterprise.
Farm Beginnings participants can be of any age, do not need to currently own land, and come from wide range of experiences and farming and ranching interests. Nearly 40 families have enrolled in the course over the last four years and 83% of graduates are currently engaged in farming activities (only 30% reported involvement in farming activities before taking the class).
Farm Beginnings classes are held December 5th to April 16th and focus on topics such as whole farm planning, financial and business planning, marketing, and connecting with resources and mentors. All classes are led by established farmers and ranchers and agricultural professionals. There are opportunities for students to further their skills by participating in mentorships with local farmers and 4-6 field days are offered through Dakota Rural Action's Farmer Network in the summer. Over eighty-percent of course graduates participate in these on-farm activities after finishing the course.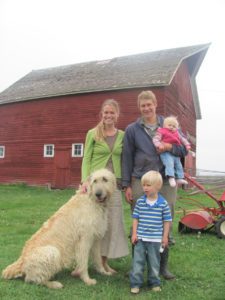 Danny Dyck of Worthing, SD completed the course and followed up with an internship where he gained the production skills necessary to for him and his wife to launch their own CSA, Deep Root Gardens, which is now in its second season of production. Said Dyck, "I've found Farm Beginnings and the Farmer Network to be indispensable tools for connecting to other local farmers, information, and hands-on skill-building workshops. I am always looking to see what kind of valuable info the Network will provide me with next."
Prospective participants should contact Dakota Rural Action at 605-716-2200 or email Program Coordinator Matt West at mwest@dakotarural.org. Class size is limited and early application is encouraged. Application deadline for the 2013 Rapid City class is October 18th. There are a limited amount of scholarships available to help with tuition costs. Course information can be found here and the online application can be found here.
Farm Beginnings® is an established curriculum developed over a decade ago by the Minnesota-based Land Stewardship Project that is now replicated in several different states, including IL, NE, ND, and NY. Dakota Rural Action has adapted the curriculum to meet the needs of South Dakota farmers and ranchers. The project is supported by the Beginning Farmer and Rancher Development Program of the National Institute of Food and Agriculture, USDA.