FOR IMMEDIATE RELEASE: 
Nov. 19, 2014
Contact: Heidi Kolbeck-Urlacher, Organizer, Dakota Rural Action, 605-697-5204, heidiku@dakotarural.org
By Request:  Additional spokesperson contact information and photos of graduates.
Farmer Veteran Coalition Joins Dakota Rural Action in Reaching Out to Veteran Farmers
Rapid City, SD – The Farmer Veteran Coalition, a non profit organization working with veterans, their families, and employers to support those returning to or beginning careers in food and farming, is sponsoring veterans scholarships for a farmer and rancher training program that will be offered in Rapid City this winter.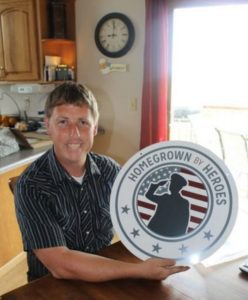 The course, called Farm Beginnings, is hosted by Dakota Rural Action, and is a 10-session training program providing participants the opportunity to learn first-hand about low-cost, sustainable methods of farming and ranching and the tools to successfully launch a profitable enterprise. This is the second time Dakota Rural Action has offered the course in Rapid City and the class will likely move to another location in the state next year.  The class is taught by local farmers, ranchers, and agriculture professionals.
Zack Carter, a young veteran who took the Farm Beginnings course last year said, ""The Farm Beginnings class was such a great experience that opened up several new avenues.  I now run cattle with another student from class who was also sponsored from the Farmer Veteran Coalition. The class and the farmer network were and still are involved with decisions I make on a daily basis."
The course is open to anyone interested in getting started in farming or ranching.  Need-based scholarships are also available for non-veterans who need financial assistance with tuition cost.  Farm Beginnings participants can be of any age, do not need to currently own land, and come from wide range of experiences and farming and ranching interests. Over 50 families have enrolled in the course in the past five years and 83% of graduates are currently engaged in farming activities.
Prospective participants can contact Dakota Rural Action at 605-697-5204 x 220 or email Program Coordinator Heidi Kolbeck-Urlacher at heidiku@dakotarural.org.  The course deadline has been extended until the class fills. Course information and online application can be found at www.dakotarural.org/farmbeginnings.
Farm Beginnings® is an established curriculum developed over a decade ago by the Minnesota-based Land Stewardship Project that is now replicated in several different states, including IL, NE, ND, and NY. Dakota Rural Action has adapted the curriculum to meet the needs of South Dakota farmers and ranchers. The project is supported by the Beginning Farmer and Rancher Development Program of the National Institute of Food and Agriculture, USDA, Grant #2010-03066.
---
Dakota Rural Action is a grassroots family agriculture and conservation group that organizes South Dakotans to protect our family farmers and ranchers, natural resources, and unique way of life. www.dakotarural.org