This post originally published on DRA's Legislative Blog on July 4, 2018
A unanimous decision by the Grant County Commissioners yesterday revokes permission for Confined Animal Feeding Operation (CAFO) operators to run force-main manure disposal pipes through the right-of-way across private land.
The motion is the result of a pending lawsuit that was to be heard in circuit court on July 16th. The suit, Tyler Revocable Living Trust vs Grant County Commissioners, claims that the county does not have the right to give permission for manure pipes to be placed in county road ditches.
These rights-of-way (66 feet) were established along every section line by the territorial legislature to guarantee a path to travel.  This land is owned, and taxes are paid on it, by the adjoining landowner. By law, the rights-of-way can be used for transportation only, even though state law does permit utilities to use the rights of way without permission from landowners.
"This lawsuit was not a frivolous act," writes landowner Kathy Tyler, of rural Big Stone City. "We had discussed the issue of trespass and getting landowner's permission three different times before the county commissioners–even presenting a legal memorandum detailing the issues.
"We filed a trespassing complaint with the county sheriff to no avail. The pipes were still allowed on our land without our permission. Having one of our driveways dug up without permission or prior knowledge so a culvert could be installed was the last straw. The only remaining option was a lawsuit."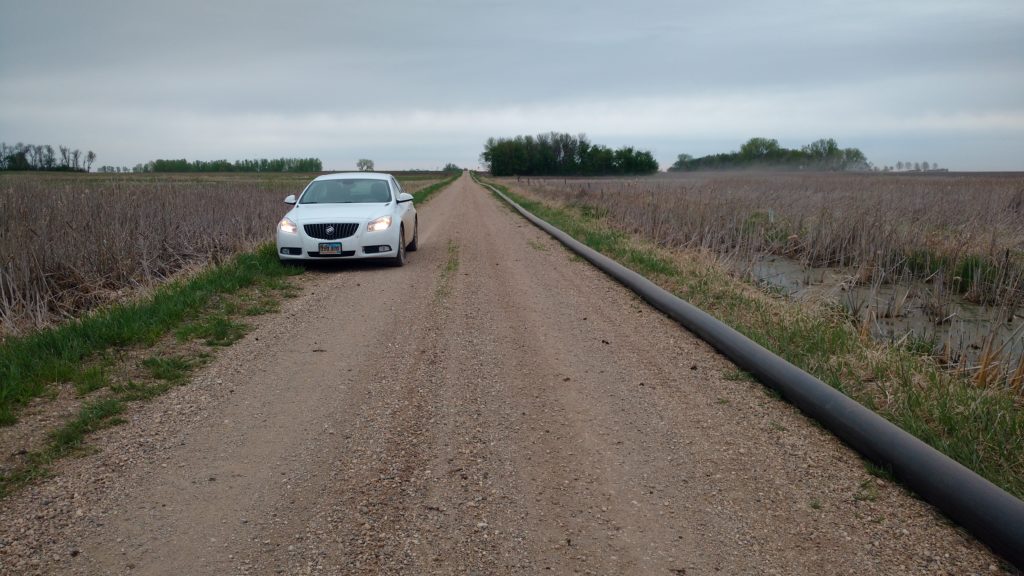 The motion was brought to the board by Attorney Jack Hieb during a ninety minute executive session.  In open session, when the motion was made, questions concerning the motion, including its intention, were asked. Citizens were assured that the motion would not be reversed in the future and that any pipe placement needed to be done with cooperation from the CAFO operators and the landowners.
Tyler stated that she was "relieved that the county finally recognized the property rights of private citizens. It's been a long, expensive fight, but it was worth it. It will make operators talk to the landowners before laying manure pipe or digging up driveways."
In the 2018 SD Legislative Session, Dakota Rural Action members fought and killed a measure that would have added manure pipes to the section of law dealing with public utilities–in effect codifying in state law that individual business owners have the right to trespass on their neighbors' private property, using these rights-of-way for the benefit of their businesses.
Prime sponsors of House Bill 1184 were District 4 Representative Jason Kettwig (R-Milbank) and Senator John Wiik (R-Big Stone City), and the bill was clearly a reaction to the pending lawsuit in their district. The legislation was supported by numerous large agribusiness groups, such as Farm Bureau, SD Cattleman's Association, and the SD Pork Producers. Individual CAFO operators also supported the bill, but indicated that their own systems worked well because they cooperate with their neighbors.
Dakota Rural Action supports private property rights. We believe in the South Dakota value of being a good neighbor, and that lawmakers granting CAFO owners the right to trespass on private property constitutes an illegal taking. We applaud the Grant County Commission for rescinding their permissions and respecting the rights of landowners.