Smithfield Foods to close Sioux Falls plant indefinitely amid COVID-19 outbreak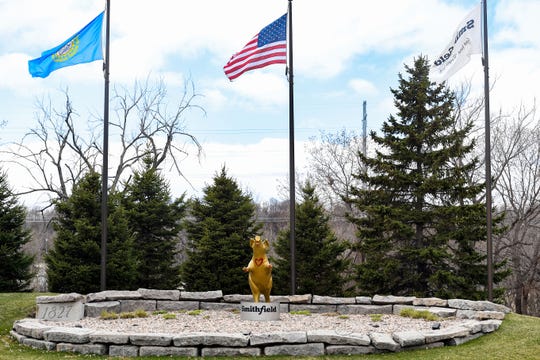 Smithfield Foods will close its Sioux Falls facility until further notice, the company announced Sunday in a news release.
Dakota Rural Action is so thankful that Smithfield employees can take a deep breath and stay safe and heal from these traumatic two weeks with regards to COVID 19. This isn't over. It's just the beginning. We cannot go back to a system that doesn't value community, the land, farmers, or the consumers. This pandemic will continue to cause both short- and long-term disruptions to our farm and food system. Many farmers and ranchers have already made production decisions for the year – and the growing season will not wait, nor will birthing animals. Moreover, crises like this hit the vulnerable the hardest: communities of color, those without a stable home or job, elderly individuals and individuals with disabilities or pre-existing health conditions, and workers unable to stay home from work without losing their job. 
The closure comes after the South Dakota Department of Health said 238 of Minnehaha's 438 COVID-19 cases involve "individuals who work at Smithfield Foods." The plant was identified as the largest hot spot in the state with about 38% of the state's cases. Those numbers were last updated Saturday.
Smithfield will fully shutdown on Wednesday. The plant will partially be operated through Tuesday to process inventory, according to the news release.
"The company will continue to compensate its employees for the next two weeks and hopes to keep them from joining the ranks of the tens of millions of unemployed Americans across the country," it said.
The resilience of our farm and food system will be an essential factor in determining our success in responding to this pandemic. As a society, we must work with urgency to stem impacts and to advance solutions that will help us weather this crisis together, with a focus on ensuring that those most impacted are driving the conversation and receiving the support they need. Now is a time for collaboration and solidarity. The farmers and food system workers we represent are also our neighbors, family, and friends, sharing our concerns and hopes for the future. Working together, we hold important solutions that can help us not only navigate this major challenge but take proactive steps toward making our food and agriculture system more equitable, resilient, and sustainable.
News Coverage:
https://www.washingtonpost.com/national/south-dakotas-governor-resisted-ordering-people-to-stay-home-now-it-has-one-of-the-nations-largest-coronavirus-hot-spots/2020/04/13/5cff90fe-7daf-11ea-a3ee-13e1ae0a3571_story.html?fbclid=IwAR1lm21XfHU3ySYz9cqJ66aC5v29EvBV1NT_jnMtfS8Kpym9mz3rd5xffhI
https://www.siouxfalls.business/smithfield-to-close-sioux-falls-plant-indefinitely/?fbclid=IwAR0xfjHbB2_VyUPTyTc7dLv94ODMsiRlhCAvB2NUDwztLTZ5Bh-GHr7_2ng
https://www.argusleader.com/story/news/2020/04/12/smithfield-foods-close-sioux-falls-plant-indefinetly-amid-covid-19-outbreak/2978385001/?fbclid=IwAR0vEr_z79b3y4i_OIm8piJvTWg8wwxToFVAw2-0-A4o62jqf3QwHq0TFE4