Farm Beginnings Program Helps Launch the Next Generation of Growers, Foodies, and Agrarians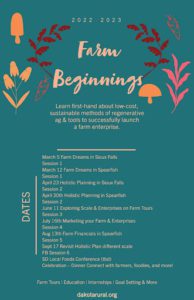 2022 FARM BEGINNINGS CLASS!!!
2022-2023 FARM BEGINNINGS Program will be different from anything before. This year we are expanding our focus on hands on, on farm, & authentic growing experience.
After the first 5 Sessions members of the Farm Beginnings cohort have the option to continue on to the next session and to also take up an internship on a farm to learn real skills.
---
March 5 Farm Dreams in Sioux Falls
March 12 Farm Dreams in Spearfish
April 23 Holistic Planning in Spearfish
April 30 Holistic Planning in Spearfish
June 11 Exploring Scale & Enterprises on Farm Tours
July TB FB Farm Tour
July 16 Marketing your Farm & Enterprises
Aug 6 FB Farm Tour
Aug 13 Farm Financials in Spearfish
*Choose Your Own Adventure*
*Internship and Apprenticeships Are Available*
*Continuing on with the next few sessions if cohort members are not able to take on an internship or apprenticeship at this time.
Sept 17 Revisit Holistic Plan different scale
Nov 4-5 or 11-12 Session 7 (dates depend on SD Local foods conference)

Celebration – Dinner Connect with farmers, funders, community

Presentations at Local Foods Conference
---
WHAT  IS THE COURSE?
Farm Beginnings is a training program taught by local farmers and ranchers that provides participants with the support and education needed to launch a profitable and sustainable  enterprise. Beginners of all ages and backgrounds are welcome to apply and participants do not need to currently own land.
This is the 11th year DRA has offered the Farm Beginnings course in South Dakota. All sessions are led by established local farmers and ranchers and agriculture professionals. Classes provide real world skills in areas such as Whole Farm Planning, Financial Planning, Marketing, Business Planning, Connecting with Resources, and Connecting with Mentors. Additionally, students have the opportunity to participate in a variety of on-farm tours and skills sessions offered during the spring and summer, as well as engage in mentorships or apprenticeships with local farmers.
The course provides a solid base of knowledge around farm business planning as well as the opportunity to network with both beginning and established farmer mentors.
WHO SHOULD TAKE FARM BEGINNINGS?
Anyone interested in developing or transitioning their enterprise. Participants can be of any age, do not need to own land, and prospective, beginning, part-time, and full-time farmers are welcome!
WHAT KIND OF ENTERPRISES ARE PARTICIPANTS ENGAGED IN?
Participants come with a wide array of sustainable farming interests and experience, including:
Cattle, hogs, goats, sheep, poultry, and other livestock

Dairy

Grazing

Vegetable and fruit production

High Tunnels

Community Supported Agriculture (CSA) and farmers markets

Crops and Hay

Fiber production

Specialty products like value-added foods

Flowers and herbs
The size and scale of production ranges from very small (just a few acres or a small urban plot) to large (hundreds or thousands of acres in production). Experience levels range from no experience farming to currently owning and operating their own farm.
IS THERE AN ON-FARM COMPONENT?
Yes, the course is closely connected to DRA's Farmer Network, a group devoted to making connections between beginning and established farmers through resource sharing and education. Opportunities within the Farmer Network include access to on-farm internships/apprenticeships, farm tours and field days, land and equipment linking, and more.
---
HAVE QUESTIONS ABOUT THE COURSE, THE APPLICATION PROCESS, OR WOULD LIKE TO REQUEST AN INFORMATION PACKET? CONTACT:
Matthew West,
Organizer/Farm Beginnings Program Coordinator
Ph: 605.697.5204 ext. 280

---
Help us get the word out about this year's program.

We need your help to help spread the word about this year's Farm Beginnings program. Here are a few ways you can help: 
Let people know about the program via facebook and other social media. Here is an example of what you could post. 

"Dakota Rural Action's Farm Beginnings course will be offered with a combination of virtual and in-person classes held in Sturgis, SD this year. Farm Beginnings is a farmer and rancher-led training and support program that provides participants the opportunity to learn first-hand about low-cost, sustainable methods of farming and ranching and the tools to successfully launch a profitable enterprise. Check it out here:

https://www.dakotarural.org/grow/
Want to start a farm?!?! Check this out: https://www.dakotarural.org/grow/
Did you all see this? Farm Beginnings Class Helps Launch the Next Generation of Family Farmers; Training Program will be held this March in a combination of hosting the first 2 sessions in Spearfish and in Sioux Falls. https://www.facebook.com/events/311898827429972/

Put up posters or fliers in your community. 

Email Jordan: jordan@dakotarural.org and request a few posters and/or fliers to be mailed to your home address. 

Let us know if you think we should be contacting someone that would be interested in this opportunity.