Brookings County Chapter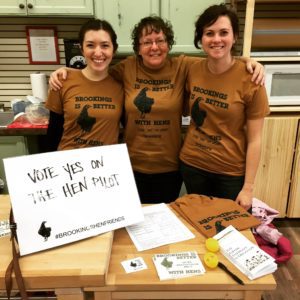 The DRA Brookings County Chapter is currently working on a Pollinator Protection Campaign which will protect local pollinator species by increasing habitat and decreasing pesticide use in Brookings County. Chapter members also continue to support and promote bicycle use and safety in Brookings County.
The Brookings County Chapter has tackled some important issues and campaigns since its inception in the early 1990's, including launching and organizing a city-wide recycling campaign, organizing multiple Earth Day events, working on county zoning issues, and launching the online South Dakota Local Foods Co-op in spring of 2010.  The Chapter also worked toward implementing ordinance changes which would support backyard hens.  For more information on backyard hens see the Backyard Chicken Factsheet.
If you're a Brookings County resident and would like to be involved, please contact Frank James at 605.697.5204 Ext. 240.
Chapter Leadership
Chair: Elizabeth Fox
Treasurer: Lawrence Novotny
DRA Board Representatives: Emelie Haigh