Greater Oahe Action League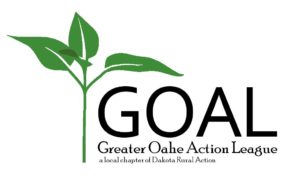 Greater Oahe Action League is the central South Dakota chapter of Dakota Rural Action.
We are a group of citizens who are interested in making our community strong through local action on issues such as local foods, small family farms, conservation and community sustainability.
Some of us are young. Some are, well, seasoned like good cheese or wine.  Some of us look like we are straight out of central casting for a South Dakota farmer. (That's generally because they are.) Others look like urban hipsters. (Again, because they are.)
We are all over the political map. We don't always agree. But we are always respectful. People say we have a lot of potlucks. Guilty as charged and completely unrepentant.
We make our leadership as flat as it can be and still have it be effective. The leadership team is there to tend to the governance; the members do the work of taking action.
Please join us. Sign up. Show up. Bring food.  Bring drink. Bring a game.
Local action. Community strong.