Homegrown Sioux Empire
The Homegrown Sioux Empire Chapter has been providing education, skill-shares and tours on growing, sharing, and preserving what you grow for 10+ years in the Sioux Falls area.
Homegrown believes that it is essential that we further our food security and sovereignty by growing and preserving our own local food and medicine towards self-reliance, and community resilience.
Dakota Rural Action organizes people and builds leadership while developing strong allied relationships. We protect environmental resources, advocate for resilient agriculture systems, and empower people to create policy change that strengthens their communities and cultures.
As a chapter of Dakota Rural Action, Homegrown Sioux Empire shares DRA's grassroots and community based origins. We believe that reviving our land based heritage and incorporating that wisdom with new energy, ideas, and methods will create the best possible quality of life and help ensure a vibrant future for Sioux Falls area citizens across the socioeconomic spectrum. We support democratic community governance and the establishment and maintenance of infrastructure which fosters interdependent self-sufficiency for the production of food, energy and housing.
Homegrown Resiliency – YouTube
Homegrown is currently working to promote self-sufficiency, sustainable agriculture, energy and water conservation, and working to create a stronger local foods movement.
Chapter Goals:
(1) Builds strong networks which embrace a culture of interdependent self-sufficiency.
(2) Creates channels for local resource sharing
(3) Promotes, educates, and advocates for sustainable urbanization and ecological economics throughout Sioux Falls and the surrounding areas
Our events can be found on our facebook page.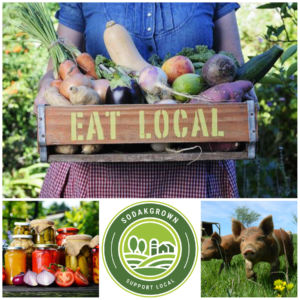 Chapter Meetings are held every third Monday in and around Sioux Falls, SD. Updated events are found on our Facebook page.
To get involved contact Frank James at fejames@dakotarural.org or call 605-697-5204 ext. 240.
Chapter Officers
Tera Regnier, Chair
_______, Co-Chair/Secretary
Rose Helland, Treasurer
Ned Horsted, Board Rep
Stephanie Peterson, Board Rep
Homegrown Sioux Falls County Chapter of Dakota Rural Action By-laws
Like and Follow us on Facebook