A Tumultuous Start to 2019
The 2019 South Dakota Legislative Session got off to a tumultuous start this week, with the new administration failing to deliver a substantive draft budget, and Legislative Research Council (LRC) staff short-handed going into the 40-day session. In other words, we're off in fine form! This first week, committee action is fairly subdued, with the main attraction being the State of the State, State of the Judiciary, and State of the Tribes addresses.
One major focus of Governor Noem's State of the State address was addressing habitat issues–especially around pheasant hunting and the tourism and recreation dollars it brings to the state. We're in agreement with the need to preserve our natural resources (which includes habitat for many species), which is why we worked with farmers, hunting lodge operators, and guides to block an 8,000+ head swine confinement in Brule County this year. After all, it's a well-known fact that massive swine operations and their accompanying millions of gallons of liquid manure do not mix well with outdoor recreation activities.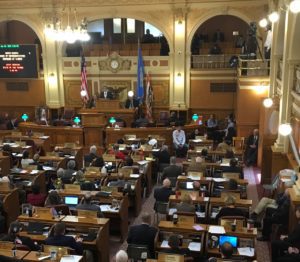 Chief Justice Gilbertson delivered a State of the Judiciary focused largely on the meth issue, the need for additional circuit court justices in populous areas, and signaled that ending presumptive probation is a bad idea. Rosebud Sioux Tribe President Rodney Bordeaux also discussed the meth problem in his State of the Tribes address, as well as a need for the federal government to uphold its treaty obligations in regard to health care.
Bordeaux reiterated the Oceti Sakowin (Great Sioux Nation) stance against the Keystone XL Pipeline, and suggested that, while the presidential permit is on hold and under review, it would be an excellent time for the state and tribes to revisit whether this pipeline is good for the state. He specifically noted the high rates of missing and murdered indigenous women and girls surrounding oilfield and pipeline man camps.
Bill Watching
A few dozen pieces of legislation have already entered the hopper, including a number of agency and interim task force bills. Of particular note are the Public Utility Commission's bills related to wind and solar development and pipeline safety standards, as well as the Ag Land Assessment bill filed early in the pre-session.
Senate Bill 4 changes the way that agricultural land is assessed in the state. The bill itself is primarily composed of repealed (stricken through) language, with the underlined language following being the only addition:
"Agricultural land in each county shall be divided into the eight classes defined by the United States Department of Agriculture's soil conservation service as published in its soil survey for each county. The county director of equalization shall, based on the agricultural lands soil survey classification, determine a value for each soil type. South Dakota State University shall provide each county with data and information for soil classification."
Because it contains so few clues as to exactly how this system will work, there will likely be extensive education and discussion of the bill before it even arrives in the Senate Ag Committee. We were informed that an informational meeting would be held during the first week of session–that meeting did not materialize, so we will be watching next week. A number of DRA farmer and rancher members are hoping to attend as well–please contact DRA lobbyist Rebecca Terk at (605) 697-5204 x260 if you would like to be notified of the day and time of the meeting.
The Public Utilities Commission dropped five bills into the mix this week, most of which may have some interest to our members. We support Senate Bill 15, which extends the timeline for granting wind energy permits from six months to a year. We've heard from a number of members that the six month window is not nearly enough time to fully research and vet the industrial wind development projects that are being applied for at a rapid rate. This bill also puts the wind permit timeline more in line with other major projects the PUC permits. This bill will be heard in Senate Commerce & Energy Committee on Tuesday, 1/15 at 10am.
SB 14 defines solar energy facilities and establishes a permitting process for them. These appear to be a larger scale than would affect more community-based projects, but DRA's Community Energy Development Committee will be listening to the testimony offered at Tuesday's Senate Commerce & Energy Committee hearing to learn more.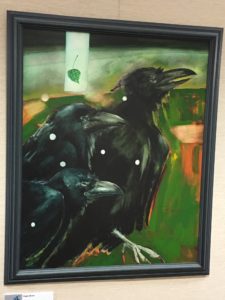 SB 16 & SB 17 are related to financial security around the decommissioning of wind turbines and indemnity bonds for transmission facilities, respectively. These bills are also scheduled to be heard in Senate Commerce & Energy on Tuesday, 1/15 at 10 am.
We are watching SB 18, which "update[s] certain references to federal laws and regulations regarding pipeline safety inspections and to increase the maximum civil penalty for certain pipeline safety violations." So far, we understand that most of what's here is simple passed-on requirements of the federal government, but we will be attending the first hearing to learn more.
A bill coming out of the Bureau of Administration has our attention as well. House Bill 1019 would "require that the state pursue recoverable costs of litigation." This seems like a decent enough idea on the surface–the state, if it wins a case, should recuperate its costs for having to defend itself. In practice, this may create somewhat of a chilling effect on those organizations (like ours) that take state agencies to task for not complying with the law. We are consulting with allied attorneys and trying to learn more. One odd thing about this bill–instead of being assigned to House Judiciary Committee, it was sent to House Commerce & Energy.
Citizen Lobby Day Feb. 10 & 11
Mark your calendar for DRA's Citizen Lobby Day at the Capitol. We'll be holding our issue education and training over dinner on Sunday, Feb. 10th (location TBA) and then meet up at the Capitol bright and early Monday, February 11th to spend the day talking with legislators, attending committee hearings, and engaging in the democratic process! An RSVP process for Lobby Day will be set up shortly–hope to see you there!
Don't Forget…
Dakota Rural Action's full-time presence at the Capitol during Legislative Session is funded entirely by YOU–our members. If you haven't already, please consider a generous gift to our 2019 Legislative Fund. Click HERE to donate, or mail checks to PO Box 549 Brookings SD 57006. Thank you!