Dakota Rural Action is proud to present this study of distributed solar energy in the Black Hills Power service area prepared by Crossborder Energy.
We believe the results of this study apply across South Dakota. Many utilities in South Dakota have claimed that distributed generation solar installations cost the utility and non-participating customers money. The only benefit goes to the customer with the solar installation.
This study flips those assertions on their head. It shows higher costs for the customers with solar installations and significant benefits for the utility and non-participating customers.
We hope this study will reignite discussions about needed policies at the state and utility levels to promote the installation of distributed solar generation by more people in South Dakota.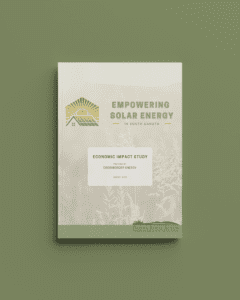 Please help us spread this solar energy message by sharing our report with stakeholders. Other ways to help are to educate others about the benefits of small-scale distributed electricity generation and its potential to transform our energy landscape, as well as share success stories of solar adopters and inspire others to consider going solar.
We want to thank the SD Chapter of the Sierra Club and 32 other donors who helped make this project possible. Many people gave through a GoFundMe campaign. We raised enough funds to cover the study, but we are still accepting donations to help us spread the message further. Donate Here.