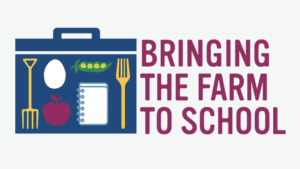 Have you ever considered trying to sell your produce to South Dakota schools but don't know where to start? Would you be interested in a Farm to School Producer Training? 
Dakota Rural Action is considering helping implement the USDA's Bringing the Farm to School Training Program for South Dakota producers. The goal of this program is to give agricultural producers training and tools to build their capacity to launch or grow efforts to market to schools, therefore increasing sales to schools for farmers while expanding farm to school activities for students in schools and communities across the nation.
Farm to School has the potential to build a more just food system and support independent farmers by establishing local food chains. Farm to school benefits producers because of the potential to increase income from farm to school sales and establishment of a long-term revenue stream for individual farmers. However, there are many difficulties in establishing these programs and connecting with school food authorities. The USDA developed the Bringing the Farm to School program to address these roadblocks. 
Please take a moment of your time to fill out this survey by March 8th, so we can gage interest in a producer training here in South Dakota, and what the best format for this program is: