Uranium Mining
Check out the photos of our May 17 "It's About Our Water" Concert: https://www.facebook.com/media/set/?set=a.10152013341646739.1073741840.95630226738&type=1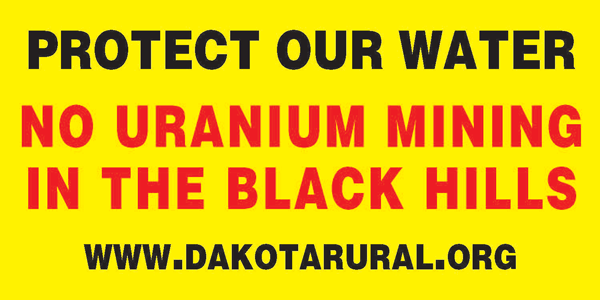 Click the button below to order your "NO URANIUM MINING" bumper sticker now!
Black Hills Uranium Mining: Not Worth the Risks
Powertech Uranium, a Canadian company, now known as Azarga Uranium as a result of a reverse take over and name change, whose major shareholder and a continued source of funding is a Chinese investment fund who itself is under investigation by the Chinese authorities, seeks three state permits and federal licensing to build the first ever ISL uranium mine and processing plant in South Dakota.
They propose taking vast amounts of water out of the ground, mixing it with chemicals, injecting it back into the ground to dissolve and extract the uranium, then concentrating the radioactive material (yellow cake) on-site for shipping by truck.
Water Quantity & Quality
Azarga is seeking South Dakota permits for 551 gallons of water/minute from the Madison Aquifer and 8,500 gallons/minute from the Inyan Kara Formation. That's 12.96 million gallons per day for 20 years.1 In 2012, Rapid City used 11.35 million gallons per day.2
If Azarga bought the water from Rapid City, it would have to pay $1 million dollars a year for the amount it seeks, but the company expects to get it for free.
Azarga is requesting an exemption from the EPA Safe Drinking Water Act so they can dispose of mining waste
water in and above our sources of drinking water.
South Dakota remains in a long-term drought. "Because the project is presently expected to operate for between 7 and 20 years…it will result in losses of significantly greater quantities of water via evaporation." 3
Despite lacking adequate, long-term aquifer test data, in 2009 Azarga (then Powertech) presented predictions of significant water level declines in other aquifers even 3 miles away. For example, the Fall River aquifer is predicted to drop up to 42 feet. Those who get their water from a well know the significance of this kind of depletion. 3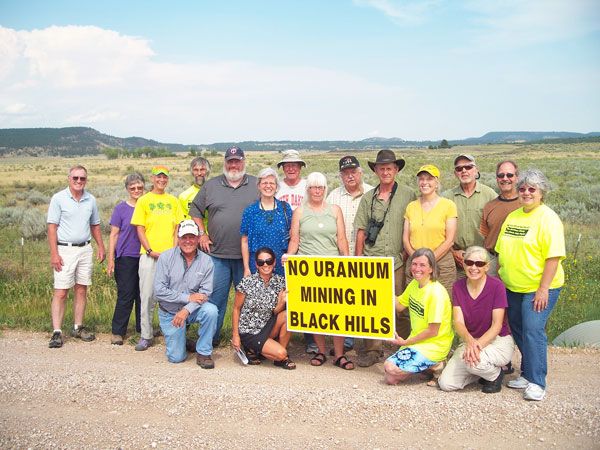 It's Just Not Safe
Among other hazards, radon emissions, toxic heavy metals and other pollutants, including chloride, sulfate, sodium, radium, arsenic and iron, are in ISL wastewater ponds. Accidents and leaks in this kind of operation are inevitable, raising concerns about runoff into the Cheyenne River and Angostura Reservoir. It is a big deal! We're not just talking about some inert solution. The most serious radiation release in the US came from a tailings pond spill at a uranium mine in New Mexico.
Containment is not possible due to natural fissures and factures in the geology of this region.4
In response to Azarga's (then Powertech's) lobbying, in 2011, the state abdicated responsibility for underground water regulation, leaving that in jurisdiction of the EPA, which has no offices in South Dakota. This means monitoring and enforcement would be inadequate.5
Economics: Too much is at stake. Protect what we have.
Uranium mining is a boom and bust business, prioritizing short‐term extraction and exploitation for foreign gain over the sustainable income source offered to local people by tourism and agriculture.
Annual Tourism Sales in the Black Hills: $1.4 billion in 2012, growing at a rate of 5% per year.6
This accounts for 72% of South Dakota's total tourism dollars. South Dakota depends on tourism for 27,000 jobs and 19% of its tax revenue.  We don't need new uranium mining to tarnish SD's status as a world-class tourist destination, for a handful of risky, temporary mining construction jobs. Too much long-term damage to land, water,  air, and cultural resources is at stake. When uranium companies recently tried to reopen mines around the Grand Canyon, the federal government moved to protect the natural heritage by banning uranium mining in a 1 million-acre area around the scenic visitors' attraction. "Mining is a boom-and-bust industry that harms tourism and robs local economies of long-term benefits."7
Market Value of Agricultural Products Sold in Fall River, Custer and Shannon Counties: $131.11 Million in 2007 (latest census data)8
Clean, potable water is critical for agriculture in this semi-arid state in the midst of serious drought. It's obvious that our water needs to be protected and conserved. ISL uranium mining will result in contamination of ground and surface water with radioactive materials and heavy metals harmful to humans, wildlife and livestock. These three counties will be the most immediately affected.
Other Concerns:
The water and land have never been restored.
There are more than 100 archaeological sites that date from pre-history on the 10,000-acre proposed permit area.
The uranium-bearing rock formation circles the outer edge of the Black Hills. Exploration has been done from Sturgis to Buffalo Gap and from Hulett south and east to Hot Springs. If Azarga's proposed project goes through, the entire Black Hills is an open door to uranium mining.
What You Can Do
Join DRA and the Black Hills Chapter. Let us know you want to get involved. Learn more and connect with others who are taking action. www.DakotaRural.org
Sign the petition to tell the South Dakota Department of Tourism to oppose uranium mining in the Black Hills. bit.ly/UraniumImpactsTourism(url is case sensitive)
Learn more: BHCleanWaterAlliance.org; PowerTechExposed.com; WiseUranium.com
Contact your elected officials and ask them to oppose uranium mining.
Spread the word. Write a letter to the editor; tell your friends and family. Powertech wants us to be quiet about this.  The more awareness you can raise, the better!
---
Sources:
South Dakota Department of Environment and Natural Resources (DENR), http://denr.sd.gov/Powertech.aspx
City of Rapid City Water Division, based on 2012 total annual water consumption
Robert E. Moran, Ph.D., SUPPLEMENTAL DECLARATION OF DR. ROBERT E. MORAN, response to NRC DEIS
Hannon E. LaGarry, Ph.D. Geologist
2011 South Dakota Senate Bill 158
2012 South Dakota Department of Tourism Annual Report
Roger Clark, The Grand Canyon Trust
2007 USDA Census of Agriculture