Farm to School
Farm to School is a movement which connects schools to local farmers and increases learning about food production in the classroom. The three main areas of Farm to School are: 1) serving local foods in the school cafeteria, 2) implementing school and youth gardens, and 3) encouraging students to learn about the food system through in class activities and on-farm field trips. Farm to School programs help children and their families make informed decisions about their food and nutrition, assist local farmers and ranchers by increasing their sales, and promote local economies by utilizing local sources.
Dakota Rural Action has been working on Farm to School issues across South Dakota since 2010. In 2021 DRA helped start the Local Foods Coalition, which has a subcommittee designated to Farm to School efforts in the state. This subcommittee serves as the South Dakota Farm to School Network to connect state and federal agencies, regional support groups, producers, and schools. The goal of this subcommittee is to focus on statewide Farm to School efforts.
Want to know more about Farm to School in South Dakota? See our Farm to School Factsheet.
The USDA has begun gathering data on Farm to School efforts across the nation with the Farm to School Census. Learn more about the Census and see the data on their website.
Dakota Rural Action serves as the South Dakota State Lead for Farm to School with the National Farm to School Network (NFSN). NFSN provides an abundance of informational material and learning tools on their website.
Farm to School South Dakota Rules
Food served in South Dakota's School Lunch Programs largely falls under the Food Service Code overseen by the South Dakota Department of Health.
South Dakota's Food Service Code regulates food supplies and says: "Food must be free from adulteration and other contamination and must be safe for human consumption. Food must be obtained from approved sources. Food in hermetically sealed containers must be obtained from a food processing plant that is regulated by the food regulatory agency that has jurisdiction over the plant. Food prepared in a private home may not be used or offered for human consumption in a licensed food establishment.
The Food Service Code also has specific rules for different kinds of food. However, fresh fruits and vegetables and most meat is not listed. Meat regulations fall under the South Dakota Department of Agriculture and must follow their regulations.
Fresh fruits and vegetables have no additional regulations under South Dakota's Food Service Code.
Third party verification is often mentioned when we discuss regulations. We don't believe the South Dakota Food Service Code requires third party verification for locally grown, fresh, raw, whole fruits and vegetables. However, schools may decide to require this level of verification.
Our Efforts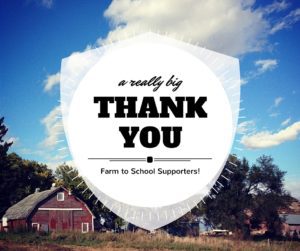 In 2021, the South Dakota Local Foods Coalition was formed, with one subcommittee focusing on creating a Farm to School Network in the state. The mission of the coalition is: working to promote resilient, equitable local food systems, and food sovereignty for all. The Farm to School Subcommittee is working towards growing Farm to School in the state.
The Huron School District has partnered with Fairacre Farms to source local foods year-round for their Fresh Fruit and Vegetable Program.
The Wagner School has started an incredible school garden featuring a geodesic greenhouse and an aquaponic system.
Kid Quest – SDSU Cooperative Extension's Kid Quest (Fitness, Food and Fun) program in the 5-6 grade classrooms motivates students to practice healthy eating and physical activity behaviors.
Lowell Elementary School Garden, "A Growing Place Garden" in Sioux Falls
Lunchtime Solutions offers a program called Farmers Market Selection which features fruits, vegetables, and other foods that are seasonal, usually locally grown or school grown along with nutritional information to help students connect food choices to future wellness.
These are just some of the great programs happening in the state! If you would like your program listed here please contact Lilli DiPaola lilli@dakotarural.org
News from Farm to School

Have you ever considered trying to sell your produce to South Dakota schools but don't know where to start? Would you be interested in a…

DANR Accepting Applications to Increase Access to Local Foods at Schools PIERRE, S.D. – The South Dakota Department of Agriculture and Natural Resources (DANR)…

Celebrate National Farm to School Month in October! October is National Farm to School Month, a time to celebrate connections happening all over the country…